Hello,

This is another small project that I've been working on for close to 3 years now (believe it or not). I have finally reached the desired results/execution and wanted to share with those who may be interested in these lens for their car.

A bit of a background first… You are probably asking "why did you even bother with this?". Well, I was never really satisfied with the light output that Z32 headlights had in their factory form. Back when I had stock halogen bulbs, I could barely see anything on the road at night. I went up to a much brighter HIB bulb later with aided the issue, but only partially. The lens and shield in a factory projector not giving a good light pattern and have a borderline non-existent cut-off line. Ever since I saw decent quality projector retrofits in the past (something like TSX projector or similar) I fell in love and definitely wanted something of that sort in my Z32. Of course, those TSX projectors are now considered old and there are MUCH better options out there with bi-xenon function. With a proper projector that has a well-designed lens/shield combination, fluting on lens becomes unnecessary and actually hurts the sharpness of cut-off line. Furthermore, I personally think that fluting is very 90s and I wanted to do a bit of a facelift and give Z32 a bit of a modern look (like 99SPEC bits that were released by Nissan). Clear composite lens were the "clear choice" for this facelift that I had in mind and I definitely wanted to build them someday.

Something similar has been attempted in the past, but these lens were made using a thermoforming process. I have seen those results and I absolutely could not live with then due to poor fitment, non-existent sealing and improper dimensions.

The only acceptable solution was to completely replicate the factory glass lens using 3D scanner, remove fluting in CAD software and create a mold for polycarbonate injection.

I have removed the factory glass lens and 3D scanned it. This was done with a $30k+ scanner and provided great accuracy. I believe it was something like +/- 0.05mm.
Once the mesh was created from scanned data, I was able to generate a CAD model that perfectly replicated the outside lens shape and mating flange of the factory lens, minus the fluting.
Here you can see the cross-section of the new lens.
With that new model, I did a couple of 3D prints to confirm fitment. Fitment was spot on.
A mold was then designed that would allow this to be created via polycarbonate injection molding. As you can see, my logos were added to this mold, but they are not visible once the lens is installed with all factory brackets and weather strip.
Mold has been CNC machined.
And then polished.
Here are some samples of the first run. Everything came out really well, at least as far as I can make a judgment of. Lens fitment is spot on as well. I will have pictures of these installed on a car once I finish prepping the donor headlights and complete a projector retrofit.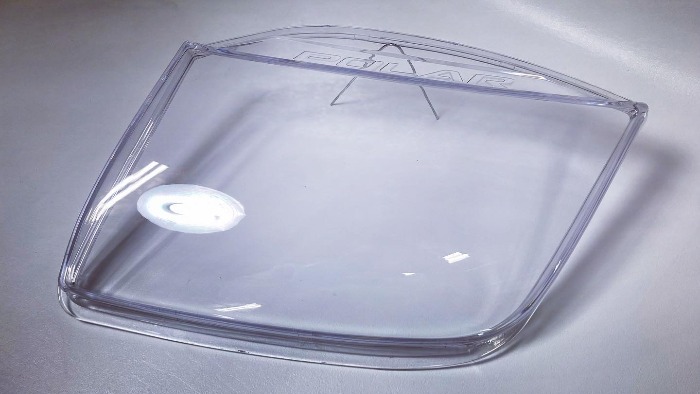 For those wondering, this is the same exact composite material that is used on most modern cars. These lens also receive UV cured coating after production, again, just like an OEM manufactured headlight lens.
As usual, feedback and questions are welcome.
For those, who are interested in securing a set, I will have a product page available by the end of this weekend with detailed information, pricing and an option to order. I need to finish calculating the final price, but it will definitely be listed on there as well.
Thank you,
AK