I found that a capacitor in that area is what sets the process to happen. It gives off an acidic vapor and oil from the electrolytes it contains when the cap fails over time. The electrolyte contains high amounts of ions needed for the process in this situation. Not all dendritic growth needs this scenario to form but this does match the article posted. The vapor starts breaking down the traces, shadow mask, and any conformal coating in that area making it all more vulnerable to the moisture collected on the board due to condensation because of the heating and cooling of the board. The resulting substance is hundreds of small sticky droplets that have a very electrolytic smell. The droplets connect traces on the board providing a path for the dendritic growth to start advancing, shorting out traces and components in that area including the main IC which I always replace when I replace the board with new ones I have made.

In the picture you can see the wet area on top of the PCB which comes from capacitor C3. I throw the caps away so I don't have a picture of the bottom of the capacitor but you can see the leakage. The ground connection to the board is that screw location next to it. You can see the corrosion around it. I remove the brass retainers from the boards as I renew and reuse them with a new board.

So in short, the ground at that location provides the bias path for that area using the large wide positive trace that the capacitor and voltage regulator B+ are connected to and runs right next to it. The moisture in that area becomes contaminated with the high ion electrolytes from the leaky capacitor and sets up a perfect scenario for it to happen.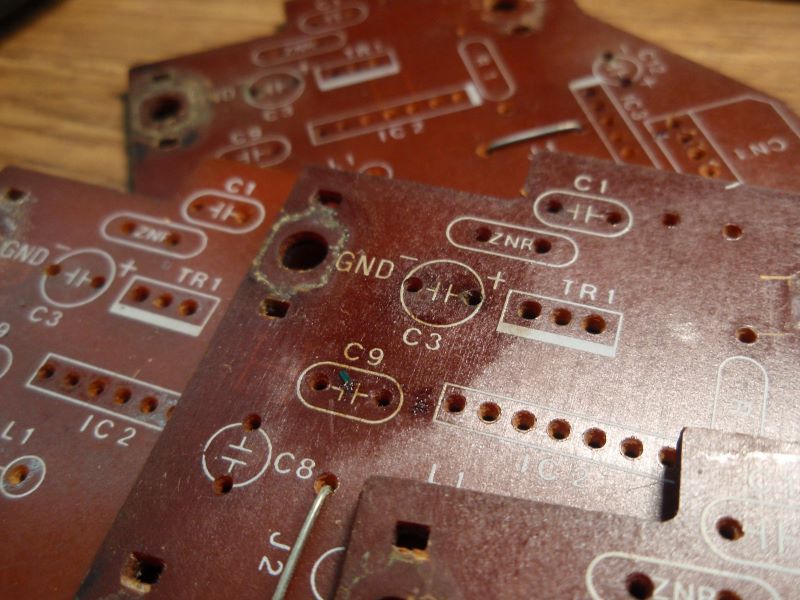 Nissan Data Voice - The first Nissan diagnostic software with a voice!