*almost*, but I need some help. I have few extra "parts" I can't figure out where they go. Any insights would be great!

I have no idea where this bracket goes?


Something goes here, I'm not sure what? I'm assuming it's something to hold the transmission harness?


Speaking of the transmission cable, I can't figure out how to route it, I've looked at pictures, but I can't tell, anybody have something? I'm guessing it doesn't matter and some zip ties will do the trick?


lol, no clue. maybe on the front timing belt cover?


I'm not even sure these are for the Z, they kinda look like flywheel bolts, but I know I put all my flywheel bolts in.

Here some pics of the build for good measure:
With the engine was out, I replaced almost everything I could think of, hoping to squeeze another 20 years out of it before I need to pull the engine again.
May 2018 engine comes out

MSP manifolds in

I wish I would have stuck with the JWT Sport 500's instead of these G5 Billet Ball Bearing Turbo's from Concept Z. They were a total PAIN IN THE ASS to fit, not much clearance. Not drop a drop in replacement like the sport 500's I had in my last Z. But they do look nice, and now that they are in, I hope it was worth it.

New 740 cc's dropped in

Aug 24th 2019, the engine is back in

Hoping to fire it up this weekend! Fingers crossed it starts & no leaks anywhere. I'm super nervous. eeek
-----------------------------------------------------------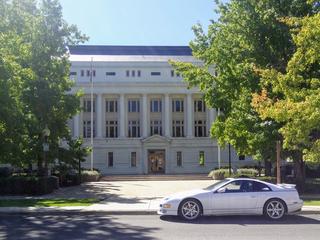 Sig Quotes:
your brillant (n/m) - Zski (Generation Z) 14:36:48 06/17/04
Fat kids will eat anything. (n/m) - SooperZ95 22:13:47 07/05/04
BTW, spelling has nothing to do with being stupid, stupid. - AzHeat 22:08:35 11/21/04
First of all, we already know you're a little pussy bitch from San Francisco - Marshall 21:36:41 06/08/05
North Dakota is so flat you can watch your dog run away from you for 3 days. - BeegsTT 13:31:27 06/15/06
The City of Santa Monica can fornicate itself with an iron stick. - 93TTSuperWHiteZX 17:20:16 10/31/06
I work with fiberglass you stupid f*** - TheTwinZ (Peru) 12:25:30 03/27/07
********\\\\\\\\|////////********
People who are willing to sacrifice
Freedom for safety deserve neither
- Benjamin Franklin -
********////////|\\\\\\\\********