Prepare to be assimilated. Dunno if anyone here has heard of these, but the other non-Z forums have been on fire with them.

New Turbos coming from Borg Warner in 2011 called the EFR series

Highlights:
Billet Extended Tip Technology compressor wheels,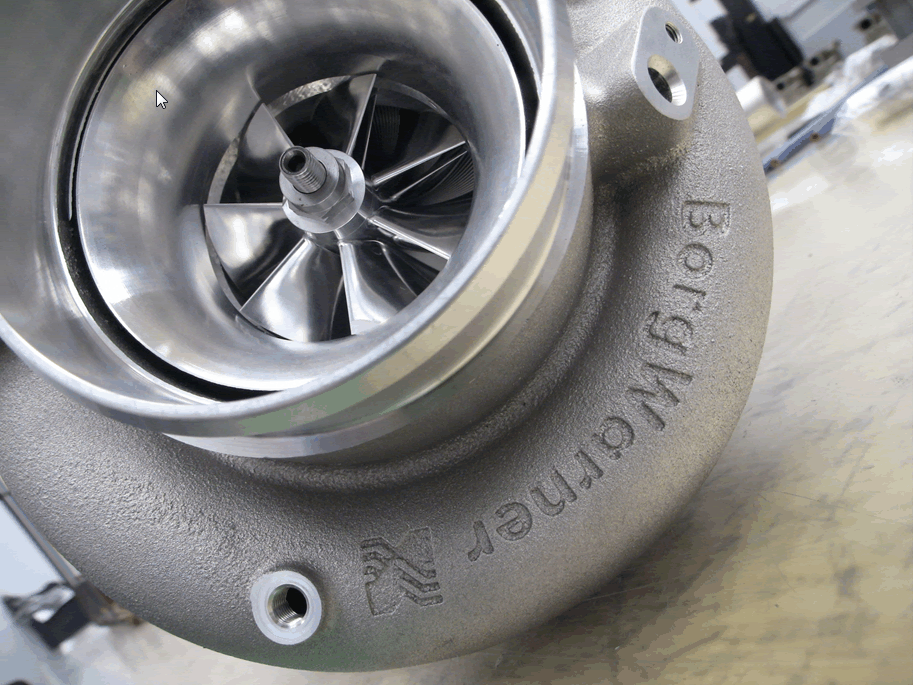 Ceramic Ball Bearings (not yet confirmed, but likely)
Stainless Steel investment cast 3" V-band outlet turbine housing. Holds heat in the turbine housing, thermal conductivity is much less than cast iron. Investment cast = light weight and very smooth surfaces. Note that the WG actuator bolts to the compressor back plate and not the compressor housing as is usually the case.
Rumored Titanium Aluminide turbine wheel:

I've seen this before, but this is the first mainstream aftermarket offering that I'm aware of. Much lighter than inconel by about half. Titanium Aluminide turbine wheels are OEM on the Mitsu Evo 10

Other items that are noteworthy:
Optional integrated recirc valve in the compressor cover. This has been done by OEM's before, but hasn't been offered as an aftermarket option that I'm aware of
Optional built in Boost Control solenoid
A large internal wastegate that doesn't suck. Somehow they've managed to do internal gating that doesn't involve 90 degree turns like the Garrett turbos do, and is supposed to perform every bit as well as an external gate.
They are offering a GT2860RS and a GT3071R-WG equivalent IN A T25 FLANGE, as well as other T3 and T4 offerings
I should have side by side pics of the GT3071R-WG and its Borg Warner equivalent later this week. FWIW, I'm told the 67mm BW compressor wheel outflows the Garret 71mm wheel despite being smaller, and has much better surge and pressure ratio capability. The 62mm wheel supposedly flows between the Garret 2860 and 3071, but spools faster than either.
Downside: The V-band turbine housing is 3/4" longer than a comparable Garrett housing. This means that the driver side will very likely have clearance issues with the firewall. A new manifold will likely be necessary. So...I wouldn't consider these a bolt on affair by any means.
These will be officially unveiled at SEMA Nov 2. Specs might be released this week, pending patent approval.
These are supposed to be "normally priced"...whatever that means. However, because these aren't a bolt-in replacement for Garret, ancillary costs will be high.
Found the leaked pics here:
[ http://www.honda-tech.com/showthread.php?p=43791437 ]
Official info here:
[ http://www.full-race.com/articles/borgwarner-efr-turbos.html ]
*fingers crossed* hope these live up to the hype. They do look great on paper so far. Supposed to be more details released later this week on full race's website.