I've been sort of laying low during this swap because I already know the reaction I'll get from posting this here (What's wrong with the VG, Scott?....well, there's NOTHING wrong with the VG30DETT... I just prefer to do this swap "just because", and it's my Z, and I can do with it what I want.)


That being said, I've had several people email me and ask me more about this swap (and I direct them to Andy's website, [ www.RBZ32.com ] because there is a TON of info on this swap over there, and about 5 completed RB26 swaps of members on there (most of which are members on tt.net too).

So instead of responding to each email separately, I'm just posting a little bit of my progress. I've been working on the engine for well over a year, but didn't really jump into it until around April/May of this year.


So here goes:

The RB26DETT AWD bellhousing bolts right up to the Z32's (TT or N/A) trans. This eliminates the need for any custom tranny mounts, driveshaft, etc.

My RB26 is from an R33 GT-R, and the late R32's and all R33's and 34's had "pull type" clutches. (if you don't know what they do, they basically work in reverse of a "normal" type clutch). They are a PITA. So I use an RB25DET clutch slave cylinder (there are two holes I had to tap for mounting this, but the places to tap them are already there... it's like it was made for this). I had to tap a hole for the Z32 clutch pivot ball, which also had a place to tap the hole, and use the Z32 clutch fork.

I'm running an RB26DETT flywheel with a N/A Z32 clutch and pressure plate (I have yet to get this, but I'll be getting it from Southbend!!!)

There are MANY MANY Z32 and S13/S14 and Z31 parts that are interchangeable with the RB26DETT... for example, Z32 oil pressure sending unit, KA24DE rear main seal, Z32 cam seals and crank seals, Z31 T-belt tensioner, J30 maxima PCV valve, and so on.... That makes things significantly cheaper!


Mounting the engine: I used the Speed & Sound Kit (now sells for about $1800-2000 or so) that includes a brand new front adjustable sway bar, modified front crossmember, and weld-in motor mounts. I also am using their custom FMIC, Piping, and Radiator w/shroud and fan. .... pics are below.

Turbo: Borg Warner 300 series S360 Turbo, oil cooled. Should be good for me reaching my 550-600hp goals (I hope). It's Andy's (BooZtd3)'s old turbo. I originally bought a T51R w/manifold from RHDJapan, but it hit the hood, so I sold it and using the BW turbo now.

I've bought a lot of these parts for the swap used, saving me thousands of dollars thus far. I bought the v-band exhaust the same way...so nothing to modify there, just bolt up and go.

The only welding involved is the 2 motor mounts.

I am running a modified RB26DETT oil pan (converted to 2WD) which has the front differential and fins hacked off for clearance. The RB26 block is also drilled to fit the RB25DET oil pan, but it's stamped steel, whereas the RB26 is CAST (and MUCH stronger), and the RB25 oil pan is VERY hard to get it NOT to leak.

The rest is pretty much bolt ons... SS304 manifold, HKS cam gears, (I will have an ATI pulley for the crank pulley), Greddy accessory pulleys, RC engineering 1600cc injectors, HKS fuel rail, yada yada yada....

Engine management is Apexi Power FC D-Jetro for the R33/R34.

Wiring? 4-5 wires spliced into the Z32's harness and all gauges will work like they did from the factory! (Amazing, eh?)

Anyway, I'll let the pics do the talking.... if it says "bandwidth exceeded" then bookmark this thread and look at it in a couple of days.

I just wanted to thank Twinturbo.net and RBZ32.com for all the help thus far, as without you guys I would never have ventured into this swap!!!

Without further ado:


RB26DETT AWD bellhousing (it's bolted to the Z32 trans now... no pics just yet)



Custom made FMIC and Radiator (and piping w/Tial 50mm BOV)

The start of the teardown to inspect everything...this engine looked FLAWLESS so I'm leaving the bottom end alone until my power needs exceed the capabilities of it.
Stock Z32 crossmember on top, modified on bottom (for oil pan clearance)
Modified crossmember and new chromoly swaybar installed in my "yet to be painted" engine bay: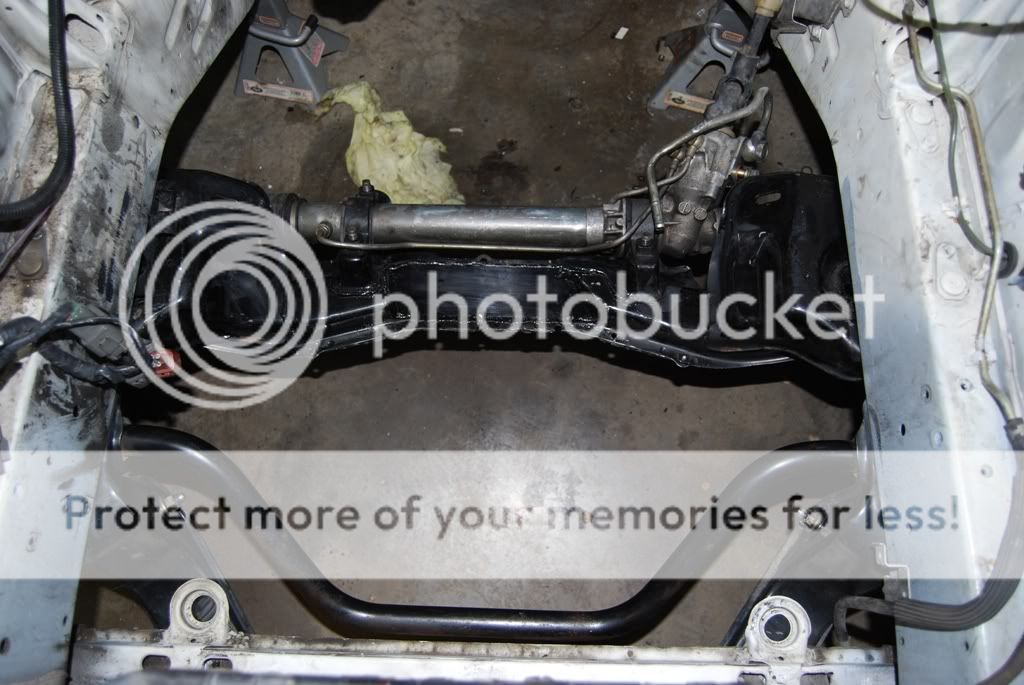 Still a ways away:

The Intake Cam didn't seat correctly when I was tightening it down...**dumbass moment** Thankfully I was able to find a replacement set for $100 from a member on RBZ32.
You can see part of the motor mounts attached... getting there...
I used my good friend Tom at [ www.TRGcoating.com ] to get parts powdercoated for me... several people on here (tt.net) have used him with good results too!
I hope it makes better sense with the license plate now, Greg...and again, I apologize for taking your plate.
Just sitting there....
As it sits right now...
There's one thing I've learned when buying parts for this engine: Never be in a hurry. I've primarily used ztune in Canada ([ www.ztune.ca ]) for parts because they can get them in 2-3 weeks most of the time and it's cheaper then the dealers on ebay, even with the WEAK US dollar/exchange rate. I'm still waiting on spark plugs, an oil pump gasket, injector resistor pack, TPS, and a few other things before I can put it all back together and get it back in the Z. I'll make sure to take pics of the engine bay once it's back in!!! It looks almost as if it were made for it!
Enjoy.

And for those wondering, what you see so far is almost $12,000 invested.... this is NOT a cheap swap. I'd plan on spending about $20,000 by the time it's all said and done.
A lot of time (waiting on parts), a lot of money, and a lot of trial & error.
Z's:
1990 TTZ (RB26DETT Swap Underway)
505 RWHP/483 FT/lb @18psi @ 380' ALT Oct. 2008
457 RWHP/441 FT/lb @18psi @ 5800' ALT Nov. 2007
436 RWHP/433 FT/lb @17psi @ 5300' ALT June 2006
Previous Z's:
1991 TTZ 368 RWHP/404 FT/lb @17psi
1994 TTZ 262 RWHP/271 FT/lb @11psi
1990 N/A 238 RWHP/226 FT/lb w/50 shot Nitrous
1990 TTZ (from the THIEF Arley Leghorn in Mt. View, CA)
2003 350z Sunset Lemans Touring Edition
2003 G35 Coupe, procharged.